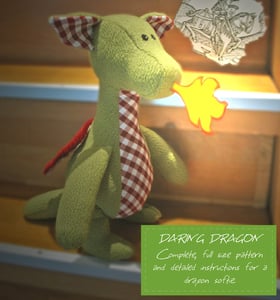 $

12.50
Complete, full-size pattern and detailed instructions for sewing your own Daring Dragon soft toy.
Have you ever been afraid of the dark; of critters under your bed, squeaking stairs and shadows on the wall ? Did you ever suspect that this so-called scary creatures aren't that scary after all? Nosey Nest presents the first in a downloadable soft toy pattern series about children's fears.
When a small baby dragon discovers how to spit fire,
breathing massive flames will be his one and only desire.
So to prevent the little hothead from wrecking their place,
his dear dragon daddy lets him practice on the staircase.
Therefore if you hear the sound of squeaking stairs late at night,
know it's a dragon fighting an imaginary knight.
------------------------------------------
NOTE: As soon as you purchase this e-pattern you will reveive an e-mail with a link to download the PDF which you can print. No more waiting!
You need to have Adobe Reader to read the pattern. (Available for free at www.adobe.com).
All Nosey Nest patterns include:
* Easy-to-follow, step-by-step instructions in English.
* Color photographs illustrating each step.
* Full-size pattern pieces.
For more information about this pattern go to www.noseynest.blogspot.com.
This pattern is for non-commercial use only.
Do not redistribute, resell or publish this pattern on the internet. Do not sell the finished item on the internet.
© 2008-2010 Nosey Nest - All rights reserved.