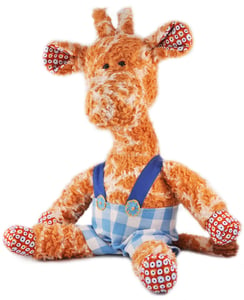 $

12.50
Complete, full-size pattern and detailed instructions for sewing your own George Giraffe soft toy.
For those who need some extra day & night guidance; Nosey Nest proudly presents the first in the downloadable soft toy pattern serie "Big Brothers". Their vast necks, huge snouts and flexible trunks are very helpfull for snooping around, smelling out mysteries and watching over you.
------------------------------------------
NOTE: As soon as you purchase this e-pattern you will reveive an e-mail with a link to download the PDF which you can print. No more waiting!
You need to have Adobe Reader to read the pattern. (Available for free at www.adobe.com).
All Nosey Nest patterns include:
* Easy-to-follow, step-by-step instructions in English.
* Color photographs illustrating each step.
* Full-size pattern pieces.
A free downloadable pattern for George's trousers can be found at www.noseynest.blogspot.com.
This pattern is for non-commercial use only.
Do not redistribute, resell or publish this pattern on the internet. Do not sell the finished item on the internet.
© 2008-2010 Nosey Nest - All rights reserved.